The backbone of every business is their customers. It is really important to have a good relation with all the clients which eventually helps in getting more business. The common way business use to make the client happy is by providing special discounts. But there are more ways to make your client happy.Corporate Gifting beingthe best among them.
Corporate gifting helps to create a very good bond between the business and their customers. Sending your clients a holiday gift is always a good idea, but sending them the first thing you find in your warehouse is not. So it is not just about sending a gift. The gift you send them reflects the image of your business.  No one wants their business to be remembered by the clients because of a bad gift sent by them.
Some companies' gifts chocolates, dates or sweets which is really a good type of corporate gift, but it is always better to gift something which the client can use for few days or may be months down the line, so that every time they see this gift, your business will be remembered. This not just makes your client happy, it's also an excellent toolfor brand retention.
Now what are the best gifts for Corporates that is relevant and prominently used?
The answer is Stationery. There are interesting types of Ecofriendly Stationery for corporate gifting like plantable calendar, plantable pencils, plantable notepad, plantable pens and more.
Top 5 Ecofriendly Corporate Gifts
Plantable Calendar
Premium Plantable Pencils
Premium Pocket Gift Set
Plantable Pens – Colored Ink
Premium Mega Grow Kit
Plantable Calendar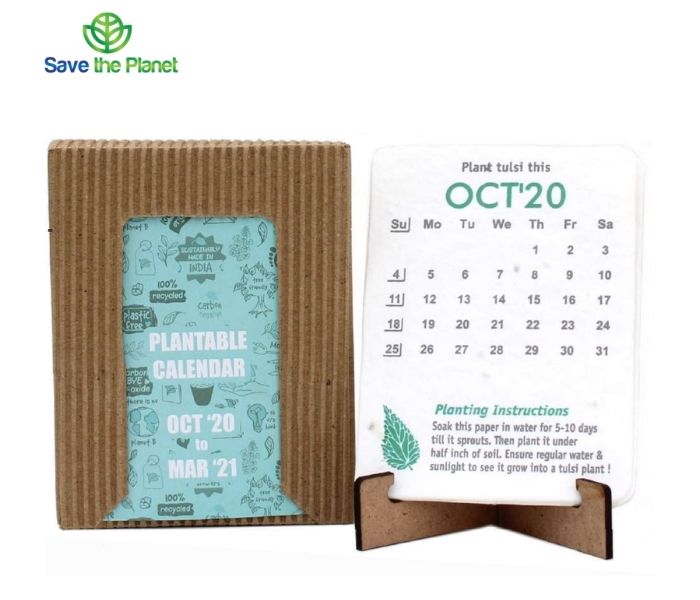 One of the best ecofriendly corporate gifts is the plantable calendar. This calendar is 100% biodegradable and compostable. This can be used throughout the year by your client which helps for brand retention. This calendar comes with a MDF stand. After using soak the paper in water for 5 to 10 days till it sprouts. Then plant it under half inch of soil. Ensure regular water and sunlight to see it grow into a Basil plant.
Click here for more details
Premium Plantable Pencils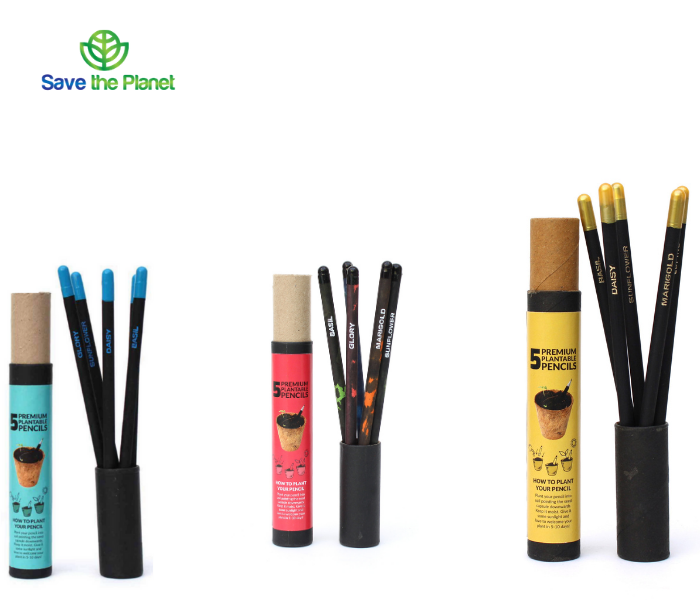 These are ecofriendly plantable pencils. They are 100% biodegradable and compostable. This model comes in 3 variants – Black & Gold, Tribal and Black & Blue. These premium plantable pencils are made from 100% recycled paper and natural graphit. A box contains 5 premium plantable pencils. This is one among the best corporate gifts and it also helps in brand retention since these will be used for more often.
When it is time to say goodbye to the pencil – let it begin its new adventure; You plant it nib side up in a nice pot with good location, sunlight is key, then give it some water and lots of love. Finally, in 5-10 days you will see it grow up to become your first step towards Saving the Planet.
Click here for more details
Premium Pocket Gift Set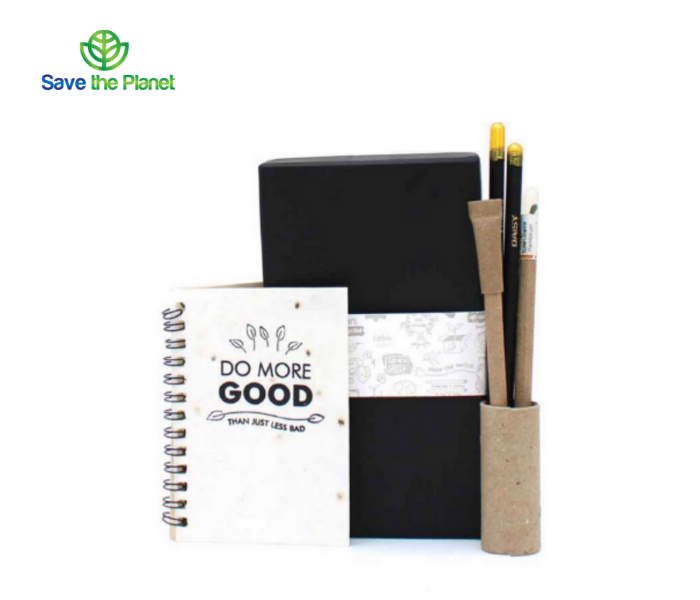 This ecofriendly gift set for corporate gifting includes 2 premium plantable pencils, 2 paper seed pens and a plantable mini notepad. These are biodegradable and compostable. If you prefer gifting a set of products rather than individual , this is one among the best options. After  the use of the plantable mini notepad soak it in a bowl of water for 5 to 10 days, it will sprout into a seed and you can plant that in any pot of your choice. Just give it a good sunlight and water. Then watch it grow with pride.
Click here for more details
Plantable Pens – Coloured Ink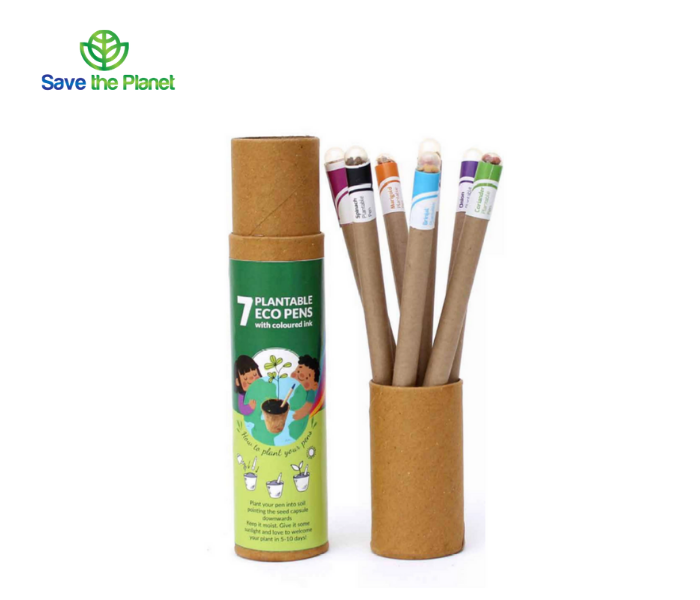 There is no doubt  that the most needed stationery for anyone is nothing but a pen. When we gift it, either it need to be an expensive one or it should be different kind of pen. Plantable Pens are ecofriendly pens which will grow into a plant. These eco pens are biodegradable and compostable. These are made of recycled paper body and cap. It contains 4x less plastic than regular ball pens. It comes with seeds in water soluble capsules. A box contains 7pcs of plantable Pens.
Once you are done with the pen, plant it nib side up in a pot and make sure it gets sunlight and give water, in 5 to 10 days you will see it growing into a plant.
Click here for more details
Premium Mega Grow Kit
It is always good to gift a set of products instead of gifting one product. This Premium Mega Grow Kit is one among the best Ecofriendly Corporate Gift set available . This kit includes 5 premium seed pencils, 7 coloured ink eco seed pens, 2 mini plantable notepads, 1 coconut husk planter and a cocopeat disk. Yes , it is a big list of products in this kit.
Pens are made of recycled paper body and cap . The pencils have 2B leads which gives smooth and dark writing. All the products in this premium kit are Ecofriendly.
Click here for more details